QQI Award (Level 5 – 5M3782)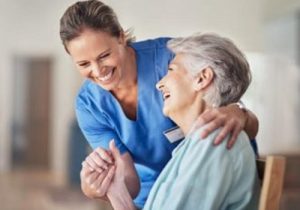 VTOS means Vocational Training Opportunities Scheme. VTOS gives unemployed adults over 21 the opportunity of returning to full time education, while retaining their benefit.
This is a one year full time VTOS course. The course aims to give training, up-skilling and confidence to learners enabling them to take up meaningful work in the area of Health Care. Another option available is to pursue further studies in the Health Care area.
Course Content
Care Support, Care Skills, Communications, Work Experience, Care of the Older Person, Palliative Care, Child Health and Wellbeing, Infection Prevention and Control
Students will also complete certificates in the following
Manual and Patient Handling
First Aid
Children First
Working with Vulnerable Adults
Healthy Food Made Easy
Certification
QQI Level 5
Duration
1 year
Entry Requirements
All VTOS applicants must be over 21 and in receipt of or a dependent of a Social Protection payment for at least 6 months before starting the course. Participation in a CE or FAS scheme counts in the calculation of six months once you must be in receipt of a relevant Social Protection payment immediately before starting the course.All applicants who present for this course will be given individual guidance by qualified tutors who are in a position to make recommendations as to what courses may suit their learning needs.
Students must apply for Garda Clearance.
Progression
Successful learners may progress on to Level 6 or Further Education.
Career Opportunities
This is an area of study that offers excellent career opportunities in Health Service sector.
How to Apply
Apply online here or email vtos@cdcfe.com for more information.