CDCFE's Frank Berry nominated for Ten IFTA's for Aisha – including Best Film Category
Coláiste Dhúlaigh College of Further Education are proud to congratulate Film Director Frank Berry on his IFTA nominations for his film Aisha. The film is nominated for Best Film and in the Best Film Script category alongside The Banshees of Inisherin. Frank is also nominated in the Best Director category.
Since working as a film production tutor at CDCFE, Frank has gone on to become an award-winning director – writing and producing hard hitting documentaries about social issues such as poverty, suicide, wealth inequality, addiction and racism. Aisha which looks at Ireland's immigration system is also nominated in the editing, sound design, costume design and production design categories.
Frank previously directed the IFTA nominated "I Used to Live Here" and the critically acclaimed "Michael Inside". Frank's earlier work "Ballymun Lullaby", is an uplifting look at the impact one person can have in a community.
Frank's social reality style films highlight the need for social justice. He puts a spotlight on difficult issues in the public sphere such as addiction, poverty and suicide. His works raises awareness of the difficulties faced by his protagonists. Frank has previously spoken out on the issue of direct provision and worked closely with groups such as Asylum Seekers Ireland to highlight what he describes as an "inhumane system" while making Aisha. We wish him the best of luck for the IFTA Awards.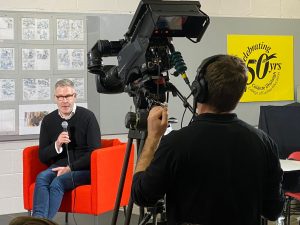 Film Director Frank Berry recently giving a talk to students at CDCFE