Certificate in Nursing Studies QQI Level 5 (5M4349) – 1 Year

Nursing encompasses autonomous and collaborative care of individuals of all ages, families, groups and communities, sick or well and in all settings. Nursing includes the promotion of health, prevention of illness and the care of ill, disabled and dying people. Advocacy, promotion of a safe environment, research, participation in shaping health policy and in patient and health systems management and education are also key nursing roles.
(International Council of Nurses, 2010)
Who is this course for?
This course is suitable for post leaving cert students and mature learners who are interested in moving into the area of Nursing, Healthcare or Social Sciences.
This Course introduces the learners to the broad and expanding area of Health Science and Social Care. It has been designed to meet the needs of different groups of students:
Students who did not obtain the required Leaving Certificate points for their chosen nursing course can use this course as a progression route

Students who were ineligible to progress to a nursing degree programme because they did not study a science subject for the Leaving Certificate.

Students who wish to defer their college place to prepare themselves for college

Mature learners who are interested in this area of work or further studies
Course Content
Anatomy & Physiology
Introduction to Nursing
Human Growth & Development
Care Skills
Care of the Older Person
Palliative Care Support
Infection Prevention & Control
Communications
Work Experience

Entry Requirements
Leaving Cert (Grade O6/H7 in Four Ordinary or Higher-Level Subjects including: Mathematics and English or Irish)
– OR Leaving Cert Applied
– OR QQI L4 award or equivalent.
Please note that course offers are conditional on students meeting the minimum course entry requirements. Proof of this will be required at registration.
Applicants may be accepted without meeting formal entry requirements, depending on prior learning and/or experience. Mature students, and those without a formal education, are welcome to apply.
A Garda vetting application must be completed. Bring with you accurate details of all addresses from birth to present and the corresponding years at that address.
Certification
Certificate in Nursing Studies QQI Level 5 (5M4349)
Certificate in First Aid Responder (FAR) QQI Level 5
Manual Handling and People Handling
Child Protection Certificate
*In order to attend Placement and gain this full award, all students must hold a Valid FAR Certificate or take part in a 3 day First Aid Responder (FAR) course.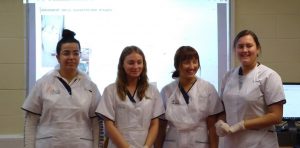 Career Opportunities
On Achievement of this full award, students can pursue careers or further study in the Health or Social Care professions.
This course will also serve as an excellent foundation in the core subjects for mature students who wish to pursue careers or further study in the Health or Social Care professions.
College Links
Graduates of this course may use the QQI links scheme to progress to a wide variety of courses offered by the Universities and Institutes of Technology. www.nursingcareers.ie
Students can use this major award (5M4349) to apply to colleges through the CAO. See the list of colleges accepting this award as an entry requirement here.
Applications through UCAS will enable students to access a range of English Universities.
Duration
1 Year
Course Charges
€50
This course is free for those over 21 and in receipt of a social welfare payment*. Click here for more information and to check eligibility.