Certificate in Health Service Skills QQI Level 5 (5M3782) – 1 Year, Blended Learning
This course provides the learners with the knowledge, skills and competence to pursue a career as a Speech and Language Therapy Assistant. This blended learning course is delivered two days online and two days on campus with occasional scheduled-on campus workshops.
The learner will gain knowledge and skills that can be applied to a wide range of speech and language therapy sectors catering for people of all ages who have difficulties with communication including eating and swallowing.
Students will also develop an understanding of how to assist Speech and Language Therapists and families to best manage clients' challenges in relation to voice, feeding and speaking difficulties.
This QQI level 5 qualification enables graduates to work as a Speech and Language Therapy Assistant as per the HSE appointed grade. Alternatively, learners can use the programme as a foundation for further study in health care, speech and language and social care.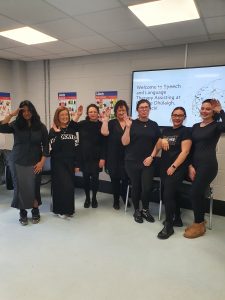 students showing the first letter of their name using lámh
Course Content
Speech & Language Therapy Theory
Speech & Language Practice
Children with Additional Needs
Care of the Older Person
Care Support
Anatomy and Physiology
Infection Prevention & Control
Communications
Work Experience.
The course includes the following workshops which are important elements of training provided:
Lámh Signs (A sign language system used by children and adults with an intellectual disability &/or additional communication needs. Lámh signs can be used as a primary method of communication or along with speech and other methods of communication)
The Hanen Program (This program teaches skills and strategies which can be used on a daily basis to contribute to speech and language development).
Entry Requirements
Candidates need to have completed Leaving Certificate, Leaving Cert Applied or equivalent.
Mature students (over 21), and those without a formal education, are welcome to apply.
All students must apply for garda clearance through the college.
IT support is available to facilitate working online. However, learners need to have a basic level of IT skills to participate on the course. Learners should be able to send an email and use Microsoft Word.
Applicants whose first language is not English require a level of B2 (CEFRL). Applicants may wish to participate in a Level 4 Starter Course with English, to prepare them for this Level 5 programme.
Certification
QQI Level 5 Certificate in Health Service Skills
College Links
See the list of courses available for progression with this award here
With this QQI award, (5M3782) students may also apply to a variety of other degree courses in Ireland.
Students can progress from this course to a variety of third level degrees in the U.K. and N. Ireland, including the BSc in Speech and Language therapy at Ulster University (Derry).
Mature Students (Over 23) may apply for degrees in Speech and Language Therapy at Trinity College Dublin, University of Galway and University College Cork.
Duration
The course duration is one academic year. There are two in-class days on campus and two days online per week with occasional scheduled on campus workshops.
Induction and orientation will take place on the Kilbarrack campus week beginning 18th Sept 2023 and all students are required to attend.
Course Charges
€50
This course is free for those over 21 and in receipt of a social welfare payment*. Click here for more information and to check eligibility.
How to Apply
Click 'Apply Now' at the top of this page, select 'Health Science (PLC and VTOS) → 'Speech and Language Therapy Assistant'
Coordinator: Anna.Cox@cdcfe.cdetb.ie