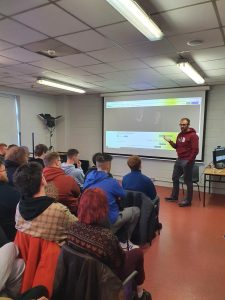 Diarmuid Goggins, director of RTE's hit show Kin, gave a guest lecture to our Film Production, Media Production and Creative Writing students this week.
The director gave an account of his career to date and gave valuable insights to our media department students on how to get a break in the industry.
Goggins, who originally studied a Post Leaving Cerificate diploma in Film in DFEI, has previously worked on BBC shows like Casualty and Silent Witness.
The director spoke passionately about the importance of being a "people person" in the media industry and about how he wrote the pitch for Kin outside Holles Street while waiting for his baby to be born during the pandemic.
Our students were given the opportunity to ask Questions and gain information on career paths into film and television production.