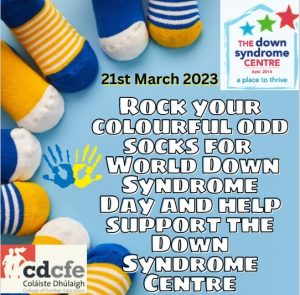 The Speech and Language Therapy Assistant group are raising money for the Down Syndrome Centre in Swords & Sandyford on Tuesday 21st March 2023.
To celebrate World Down Syndrome day, we are encouraging all students and staff to wear crazy odd socks or wear the colour purple to show your support.
Donation boxes will be left in all 3 campuses – at the front desk, canteen and staff rooms. On the donation boxes there is also a QR code so you can scan to donate if you don't have any coins. The money raised will go directly to the Down Syndrome Centre in helping fund physiotherapy, occupational therapy, speech and language, summer camps, family support etc.
The Down Syndrome Centre have been a fantastic support to the Speech and Language students this year so CDCFE would like to show support for this great cause.
Don't forget to tag our socials when you Rock your Socks!