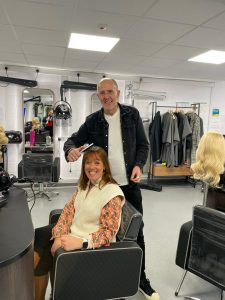 RTE's Claire Byrne show correspondent Evelyn O'Rourke visited Coláiste Dhúlaigh College of Further Education (CDCFE) to feature their National Hairdressing Apprenticeship (NHA) course.
Evelyn went to the rec ently opened salon Cabello, located in CDCFE's Kilbarrack campus on Greendale Road, where she met with hairdressing apprentices and NHA tutor and course coordinator Kevin Cahill.
Cahill, a former president of the hairdressing federation, spoke passionately about the QQI level 6 course that allows its apprentices to "earn while they learn". He commented "The apprenticeship is a balance between the practical skills of the hairdressing industry and education. It's based on an 80/20 roll out – the salons still train their apprentices to their own standards as they are their employees – then they spend the other 20% with us learning the theory that the salons rarely have time to teach".
Philip McDonagh, a hairdressing apprentice at Coláiste Dhúlaigh CFE, spoke on the radio show about deciding to become a hairdresser after studying business for four years. "It makes me feel more confident in the salon to know I have the qualification".
During the feature, Evelyn O'Rourke referred to Cabello as a "posh trendy salon" and remarked on the passion that the tutors have for the job. Hairdressing tutor Kevin Cahill, who has worked in the industry for almost 50 years spoke emotionally about how proud he was to be leaving something worthwhile behind him – "I know there is a future for these apprentices in the industry and the QQI Level 6 is also a bridge into higher education courses like business management if they choose to go that route".
There are over 10,000 hairdressing salons nationally and the aim of the National Hairdressing Apprenticeship is to address the current skills shortage in the industry by training its participants to a QQI level 6 qualification that is the only nationally recognised qualification for hairdressers as well as being internationally recognised – meaning graduate apprentices can travel the world with their trade.
CDCFE's NHA programme manager Aine Daly, said "we were delighted to welcome Evelyn O'Rourke to our Kilbarrack salon and showcase our state-of-the-art facilities. Coláiste Dhúlaigh were the first college in the City of Dublin ETB to run this programme and it is great to see our first intake of apprentices now moving into the third and final stage."
The NHA is coordinated by The Limerick & Clare Education and Training Board (LCETB) who worked with a consortium steering group when developing the programme. For more information about the National Hairdressing Apprenticeship at Coláiste Dhúlaigh CFE visit National Hairdressing Apprenticeship at Coláiste Dhúlaigh CFE (cdcfe.ie)
Listen back to the podcast here: Hairdressing Apprenticeship – Today with Claire Byrne (rte.ie)