Every year we encourage our design students to engage with live projects and this year the graphic design level 6 team and tutor Aisling Brunell were lucky to work with a local well-known company, Bewley's Coffee. They asked our graphic design students to create a new design for their coffee container at their headquarters in Northern Cross. Dublin Canvas had recommended our students for the job, and we were delighted to get involved. The process began with Bewley's marketing department delivering the brief to our students. Bewley's were in the process of rebranding; and wanted the container to be contemporary and vibrant, speak to the community and attract customers to the new location.
Our students began a collaborative process to create a winning design for the project. The project started with in-depth ideas generation processes which led to a series of design development sketches from the team.


Once all students produced a final design proposal the group presented their concept and the team voted on the best four proposals to present to Bewley's Marketing team. After a lot of deliberation, they chose our student Marsha Koshyrenkova's design. All students produced excellent submissions, but we all agreed the final design was well suited to the brief.



The students started to prep the container and got ready for graphic designer and mural artist John Brady to complete the design by mapping out and spray-painting the container to an extremely high standard.
Have a look at the hard work and fun the students had prepping the container. They did this through harsh weather conditions as getting the job done for their client was always their priority. The students showed tremendous commitment and dedication to the project and as their teacher I would like to thank them for all the work they put into the project.
Our photography students did an amazing photoshoot for the project and also had to work in challenging rainy conditions. The results are superb, and the graphic design team would like to thank them for their contribution to the project.
Bewleys erected a plaque with the following :
The graphic design students at Coláiste Dhúlaigh worked together to develop a design concept that incorporates bold geometric forms and colours, creating a vibrant design that would attract a new wave of customers to the Bewley's Coffee container. Bewley's and CDCFE are firmly embedded in the Northside community therefore the design speaks to the diverse, colourful, and vibrant inhabitants and visitors to the area. The shapes on the container create a sense of ebb and flow that represents a new Ireland. The graphic design class of 2023 stands for inclusion, diversity and creativity which brings people together …..like coffee.


Bewleys have since used the coffee container in a number of press releases and marketing campaigns to promote their Barista Wojciech Tysler who will represent Ireland at the World Barista Championships in June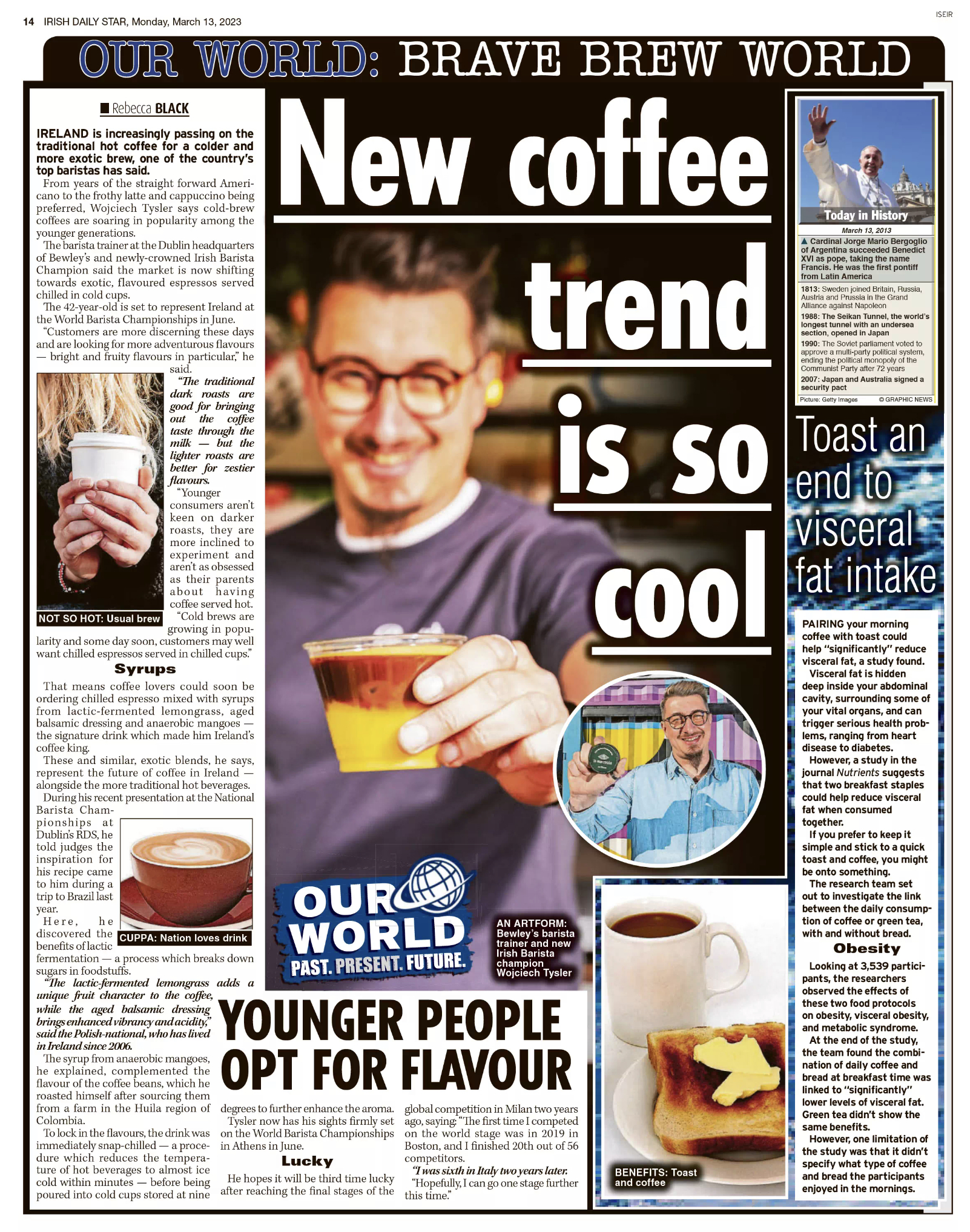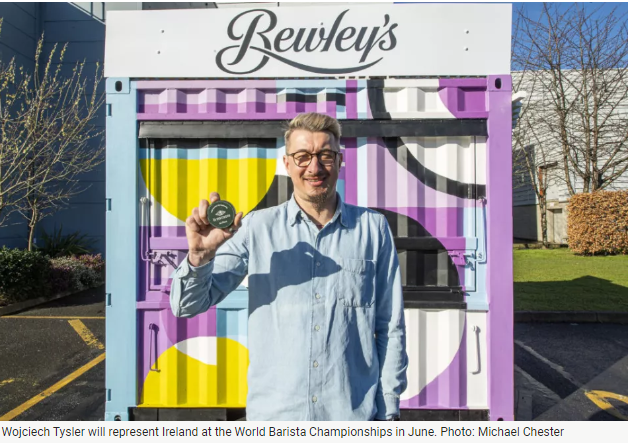 Read More:
https://www.breakingnews.ie/lifestyle/ireland-swapping-americanos-for-cold-brews-1446241.html
https://www.hospitalityireland.com/drinks/barista-wojciech-tysler-says-young-consumers-driving-coffee-habits-change-197103
https://www.hotelandrestauranttimes.ie/2023/03/13/young-consumers-driving-change-in-coffee-habits/
Follow the art and design department on Instagram for more updates on current and future projects
Coláiste Dhúlaigh Dublin CDCFE (@artanddesignatcdcfe) • Instagram photos and videos