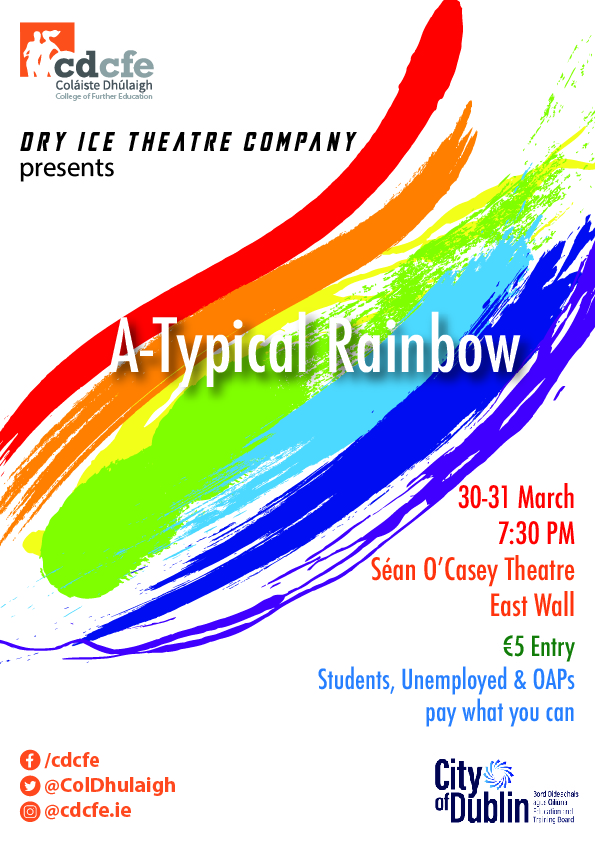 The Performing Arts students at Coláiste Dhúlaigh College of Further Education would like to invite you to their end of year performances of 2 weeks eh and A-Typical Rainbow on Thursday 30th and Friday 31st March at The Sean O'Casey theatre, Eastwall at 7.30pm
About the Shows by CDCFE's Dry Ice Theatre Company:
Missing out on life's biggest milestones and navigating life through the lens of zoom and TikTok, '2 weeks eh' is a thrilling exploration of how the covid 19 pandemic impacted our lives. This piece was devised by Higher National Certificate (first year) students drawing on life experiences, interviews, and research.
Join us straight afterwards for The Irish premiere of A-Typical Rainbow. Based on real events from the perspective of the writer and the autistic community, JJ Green's A-Typical Rainbow is an uplifting play about the experience of growing up neurodivergent and queer in early 2000s.
It revolves around 'Boy' as he navigates and sees the world differently from most people. Where 'they' see monochrome, he sees the world in vivid and brilliant technicolour with mermaids, wolves and dragons galore. As 'Boy' grows up, he faces increasing pressure to conform to the black and white logic of the 'real' world, a way of thinking that doesn't make sense to him and forces him to suppress his unique and beautiful personality.
Performed and produced by Higher National Diploma (HND) students.
FOLLOW US ON INSTAGRAM FOR REHEARSAL UPDATES
@a_typicalrainbow
We hope you can join us.